In accordance with Orange County Department of Health recommendations to limit congregation of large groups of people and in an abundance of caution to protect our guests and volunteers, we will begin several temporary measures starting Friday, March 13th, 2020 and continuing until further notice:
meal preparation volunteers will be allowed to enter the building

PLEASE, if you feel ill with fever, running nose, cough or shortness of breath, do not enter the building and contact your health care provider.
If you feel that you are at increased risk, do not hesitate to let us know that you would prefer not to come in
please review the information attached and at the end of the email below about how to stay healthy

no outside groups of people will have access to the building
meals will be available for pickup in containers on tables in the churchyard
We have also been asked to make sure of the following at all distributions of take out meals:
all guests asked not to congregate in groups before or during meal distribution (the information we shared is attached and posted below)
all guests asked not to bring food containers into public places like the library and parking lots to eat
all guests asked to make sure that all trash is placed in a trash can; additional trash cans will be placed in the churchyard
Our main goal is to remain open and provide meals to those most in need while being considerate of the needs of the community. This is a changeable situation and we will keep you updated as to how we plan to continue operations.
What are we doing and what can you do?
The Guild of St. Margaret will be moving to take out meals which can be picked up in the churchyard between the hours of 11 am and 12pm until further notice.  Please note that no Breakfast will be provided until further notice.
PLEASE, if you have access to served meals elsewhere or have the ability to cook meals elsewhere, plan to do so.
We ask that you stay at least 6 feet apart from other people while waiting to get and eat your meal
The churchyard will be open for you to eat your meal, but no seating or tables will be provided. The city has requested that we ask you not to bring meals into public spaces to eat and that you dispose of all waste in the trash cans provided here
Please review the information on the back of this notice to keep yourself and our community safe!
Take steps to protect yourself
Clean your hands often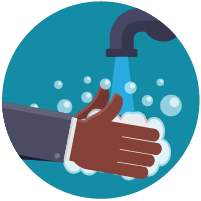 Wash your hands often with soap and water for at least 20 seconds especially after you have been in a public place, or after blowing your nose, coughing, or sneezing.
If soap and water are not readily available, use a hand sanitizer that contains at least 60% alcohol. Cover all surfaces of your hands and rub them together until they feel dry.
Avoid touching your eyes, nose, and mouth with unwashed hands.
Avoid close contact
Take steps to protect others
Stay home if you're sick
Stay home if you are sick, except to get medical care. Cover coughs and sneezes.
Call your doctor or the emergency room (845) 333-1000 if you have symptoms fever, cough, trouble breathing before you go! They will let you know when and where to go for treatment.
Cover your mouth and nose
with a tissue when you cough or sneeze or use the inside of your elbow.
Throw used tissues in the trash.
Immediately wash your hands with soap and water for at least 20 seconds. If soap and water are not readily available, clean your hands with a hand sanitizer that contains at least 60% alcohol.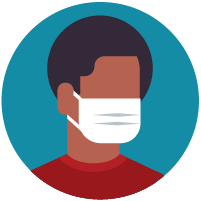 Wear a facemask ONLY if you are sick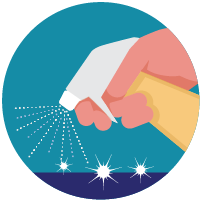 Clean AND disinfect frequently touched surfaces daily. This includes tables, doorknobs, light switches, countertops, handles, desks, phones, keyboards, toilets, faucets, and sinks.
If surfaces are dirty, clean them: Use detergent or soap and water prior to disinfection.