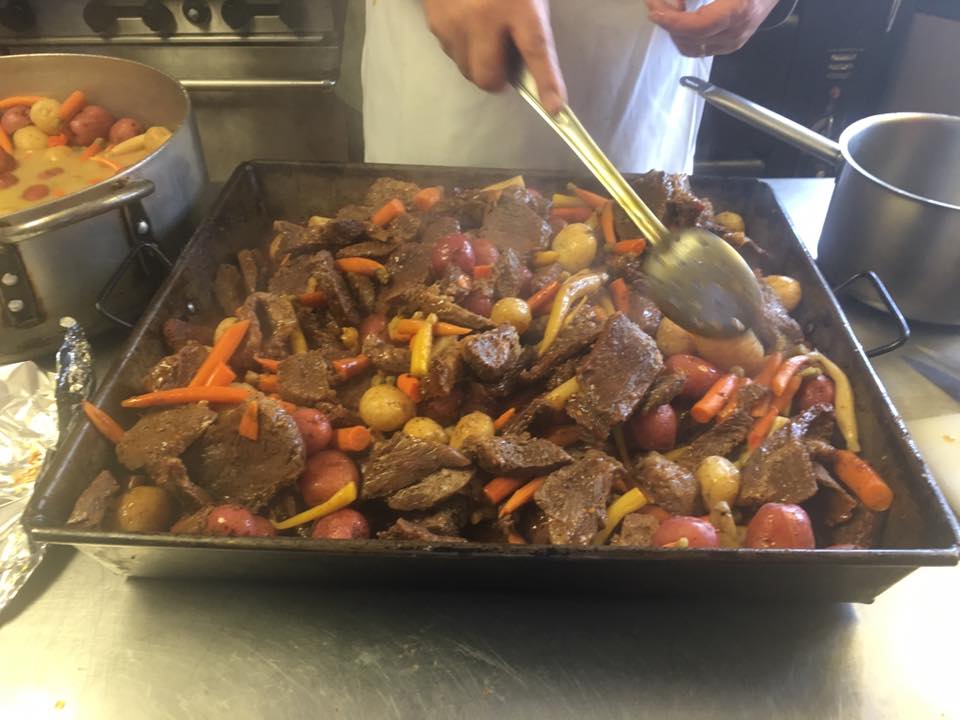 The Guild of St. Margaret Soup Kitchen provides a hot, nutritious, well-balanced meal 7 days a week, including holidays. Lunch: Monday-Saturday 11:00am – 12:00pm and Sunday from 3:00pm – 4:00pm. Soup kitchen guests come from all over Middletown, NY and surrounding areas, and for many of them, this is the only meal they will eat that day. We have always had an open-door policy—everyone is welcome, without question or qualification.
We serve for 1 hour (lunch only), however, the day at the soup kitchen is much
longer than that. It starts around 8 a.m. to prepare and begin the cooking process for lunch to be served from 11 a.m. to 12 p.m. Then there is the cleaning time after serving roughly ending around 12:30 p.m. This is done every day to feed an average of 100 guests.
What's most important at the Soup Kitchen is providing nutritious food that will sustain and nourish our guests. Each meal is designed with health in mind and is made up of the recommended balance of fruit, vegetables, grains, protein and dairy.
(Due to the Covid-19 pandemic we are now serving hot meals outside in our outdoor serving station). Serving begins promptly at 11:00am for lunch, when the doors open and the first of the guests begin to stream in. Each guest signs in, picks up their wrapped utensils, and is handed a "eat well plate" consisting of their meal and then stops at the beverage station for a drink and fruit. They then take a seat at one of the large tables set up in the beautiful dining hall. Coffee and/or Tea is provided as well.
By 12:00 p.m. the last of the guests have received their final meals for the day. By 12:15 the volunteers and staff begin the cleaning process in the dining hall and kitchen. By 12:30 the last of the mops and brooms disappear into the closet, the machines are shut down and all is quiet until 9 a.m. the next day, when it starts all over again…
Oh.. and did we mention how we absolutely LOVE our volunteers!!